Experience the TDEMI ULTRA – Hands-on Video with Frank and Stephan
Watch the hands-on video with Frank and Stephan showing the very easy-to-operate and intuitive user interface of the world's fastest EMI receiver – the absolutely outstanding and unrivaled TDEMI ULTRA series released by GAUSS INSTRUMENTS in early 2018.
The TDEMI ULTRA real-time receiver series provides ultra high performance. Best in class RF performance. Lowest noisefloor. The fastest stepped scan receiver on the planet. The fastest FFT-based receiver on the planet. All at the same time. All in just one box.
Covering the frequency range from DC to 40 GHz, the TDEMI ULTRA measurement system provides a fully integrated spectrum analyzer, a real-time spectrum analyzer, a time-domain mode, a fully gapless real-time spectrogram mode, a stepped scan receiver, and a FFT-based receiver of course. Due to its various operation modes it can be used in a vast range of applications, e.g. for measurements and testing according to telecommunication standards as ETSI and FCC - as well as for general analysis of signals - all this can be done fully gapless in real-time with an absolutely unique instantaneous bandwidth of 685 MHz. All operation modes are fully compliant to CISPR 16-1-1 as well as ANSI C63.2 and can be used for test and measurements according to civil standards (e. g. CISPR, EN, FCC Part 15, ANSI C63.4), military standards (e. g. MIL-461G, but also its previous versions and revisions) as well as avionic standards (e. g. DO-160) or any OEM standards.
A wide range of configuration possibilities are available in addition as well as full automation software packages making the TDEMI ULTRA the perfect match and the most cost efficient solution you have ever seen in your lab.
Automated Conducted Emission Measurements within a Second
The TDEMI System simplifies and tremendously speeds up the measurement procedure but it also enhances the quality of your conducted emission measurements at the same time. Thus you get to your final test result just within a few seconds - and you're done. The line impedance stabilisation network (LISN) is remote controlled by the TDEMI. All phases are measured fully automatically. The report generator creates the test report according to the given limit lines selected or specified by the user. Complete setups incuding limit lines, transducers and settings can be stored by the measurement software's user interface and just needs to be recalled the next time and you're ready to go.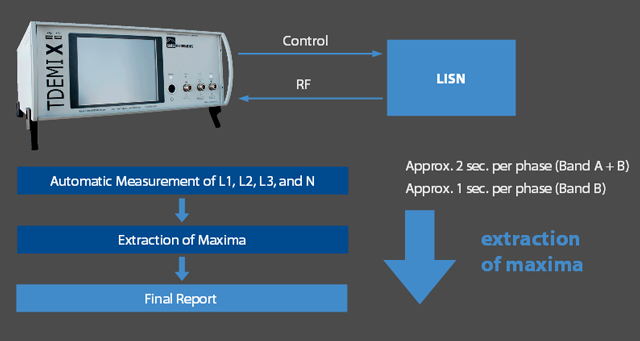 Automated Measurement of Disturbance Power in full Real-time
Measurements of disturbance power are carried out using an absorber clamp that is moved along the cable of the device under test. Instead of measuring many positions afterwards maximazation and finally re-measuring the ciritcally frequencies only which is a very time-consuming and out of date procedure - now the complete spectrum up to 300 MHz can be measured with quasi-peak in real-time by the TDEMI X receiver series which only takes around 20 seconds - depending on the speed moving of the clamp along the cable track. By using the max hold function the maximum emission level of all (!!) positions is obtained. The report generator documents all the maximas and the test report is generated fully automated. Complete setups incuding limit lines, transducers and all other applied settings can be stored and just recalled the next time by the very easy-to-operate instrument's software interface.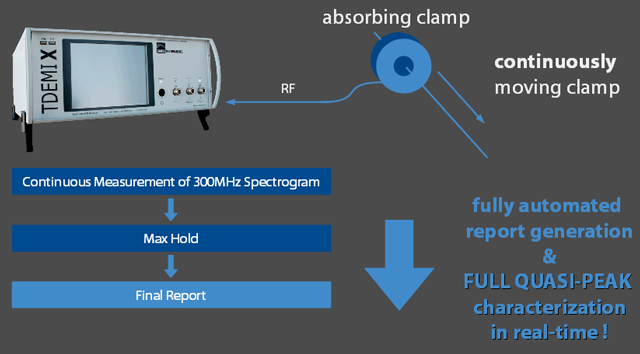 Full Quasi-Peak Characterization in Real-time up to 1 GHz
Originated by the conventional heterodyne receivers and its very slow sequential frequency scanning technology prescans are performed to detect some critical frequencies only to reduce the total scan time of the following final measurement to be carried out at those identified frequencies only. Now, the TDEMI X Measurement System allows to improve the over all quality of testing. By using the TDEMI X receiver the measurement is performed with quasi-peak detector and carried out at up to 64,000 frequencies in parallel. Thus it is possible to perform your final quasi-peak measurment in real-time - measuring all frequencies and all position of your DUT - resulting, for the very first time, in a full quasi-peak characterization of your DUT. This speeds up your testing by orders of magnitudeand at the same time the quality of your measurements is increased and the measurment uncertainty is reduced by orders of magnitude. The measurement of radiation patterns can be performed and visualized in 2D and 3D images to identify the radiating sources and also the test reports can be generated fully automated.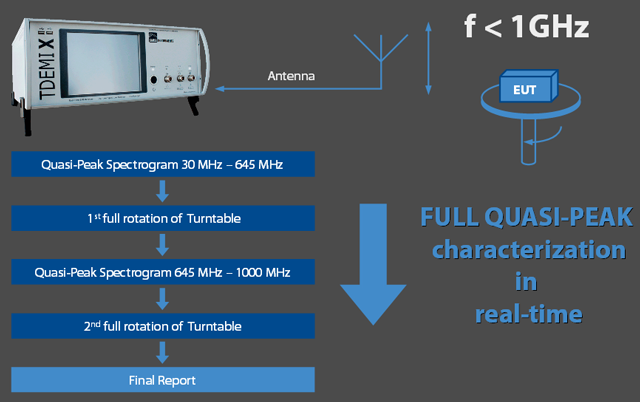 Radiated Emission Measurements above 1 GHz
Typically emission measurements above 1 GHz are carried out at several angular positions for horizontal as well as vertical polarization. Instead of spending hours with a conventional heterodnye receiver, the TDEMI X coming with its MultiGHz real-time scanning feature tremendously speeds up your measurements and testing procedures. Instead of carrying out a scan per angular position each, rotating the turntable continuously while measuring in real-time. MaxHold is used to obtain the maximum emission over all positions. By the report generator the maxima are calculated and listed in a table and the report is generated. The result is again a reduction of the overall testing time by magnitudes. E. g. a reduction of about a factor of 20 can be achieved compared to performing a complete test with conventional heterodyne receivers and 10 degree steps of the turntable.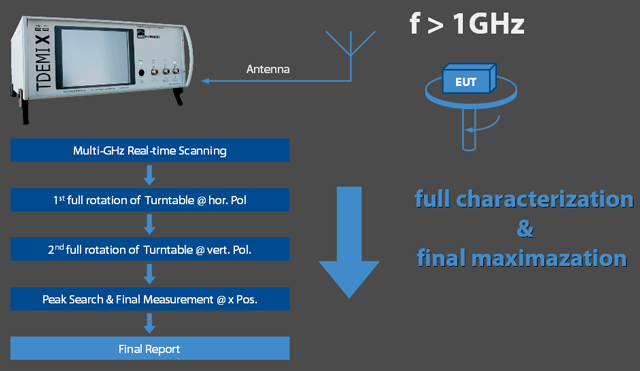 Radio Frequency & Microwave Technology
For our ultra high-speed analog-to-digital converter systems, manufactured in impeadance controlled multi-layer technology with up to 12 layers, special high-performance analog and mechanical components are needed. Such high performance systems are assembled in mechanically precise manufactured enclosures machined from a single piece of aluminium thus providing an excellent heat dissipation and best long term stability over the years of operation.
The TDEMI Measurement Systems in the upper GHz range use analog circuits with excellent RF performance for the front-end.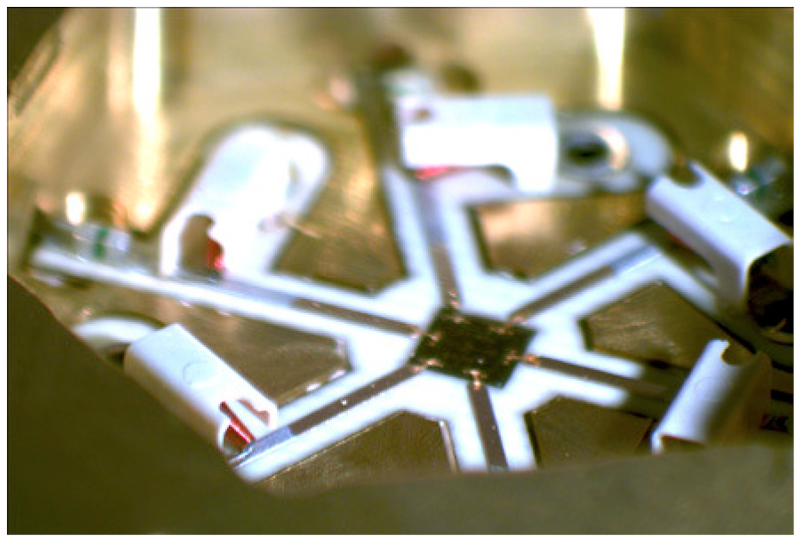 Such circuits have been developed and optimized especially for the application in EMC measurements. In Fig. 40 a part of a multi-channel switch for the frequency range up to 26.5 GHz is shown. A special thin-film substrate and bare die monolithic integrated circuits enable highest performance. The complete mounted circuits are assembled in enclosures with highly mechanical precision made of gold-plated brass providing excellent RF characteristics. In the upper frequency range filter, mixer and switches are used which exhibit excellent RF performance, e.g. the pre-selection up to 26.5 GHz uses filters with a loss of less than 1 dB. Filters with low dispersion allow excellent impulse response for broadband signals.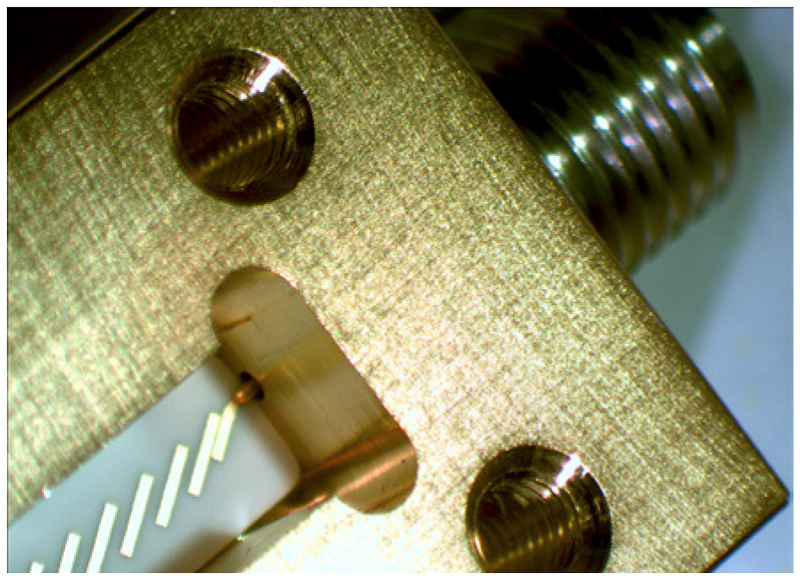 Fig. 41 shows a bandpass filter. For the development of such circuits very powerful simulation tools are used. The filters are manufactured on special thin-film ceramic substrates which are assembled in gold-plated precision enclosures finally.
Emission measurements in the frequency range can be carried out on open area test sites (OATS) or in anechoic chambers. Fig. 42 shows a fully anechoic chamber for testing of frequencies up to 20 GHz. To compensate the missing tips of the absorbers the room is completely cladded with special ferrite tiles.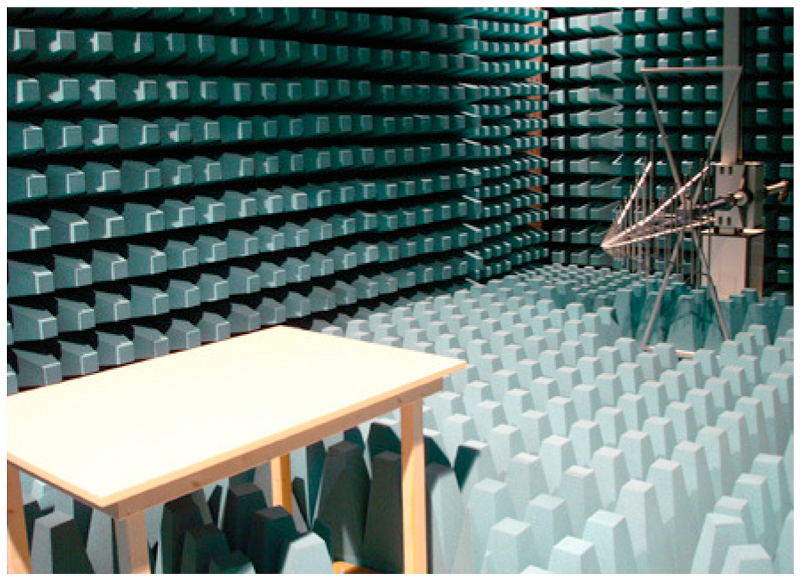 About us
Established in the year 2007, the company GAUSS INSTRUMENTS is manufacturer of highest performance EMC test equipment and provides advanced EMI test solutions pushing your product development and testing capabilities ahead, and speeding up your time to market cycles. With GAUSS putting the turbo in EMC since 2007, product certifications as well as precertification tasks have become as simple as they had never been before. Across all over the world we provide our unrivaled products, advanced test solutions, and services – together with a local service partner of our worldwide network of highly qualified and dedicated team and partners.
GAUSS INSTRUMENTS traces its technical roots to basic research on short time Fourier analysis and synthesis begun in the 70's. In the early 2000's the founders of GAUSS INSTRUMENTS invented a measurement technology combining time-domain and FFT based techniques and superheterodyne technology in a massively parallel topology - the so called TDEMI® Technology which has become the new state-of-the-art in the world of EMI testing in the meanwhile. The TDEMI® Technology is a registered brand and patented technology of GAUSS INSTRUMENTS. It is provided to you only by GAUSS or its' official certified local partners. Joint research projects were performed in the field of time-domain measurements of electromagnetic interferences (EMI) together with well-respected research institutes and universities. Official metrology labs, testing and certification institutes, as well as leading automotive OEMs and many other blue chip companies selected GAUSS as innovative cooperation partner and reliable solution provider for their demanding test requirements during market certification as well as product development but also research investigations. Over the past two decades about 100 publications, transaction papers, white papers and journal articles were published on selected topics of time-domain EMI measurements and EMC testing as well as intelligent methods for automated testing. As inventor of the TDEMI® Measurement Systems which use ultra high-speed analog-to-digital converters and pretty much advanced real-time digital signal processing methods we enable ultra fast tests and measurements for electromagnetic compliance that fulfill the increasing demands for measurements of today's ever increasing density and complexity of electronic equipment and systems.
And our innovation continues - combining our deep knowledge of real-time digital signal processing, millimeter, and microwave technologies to develop receiver and analyzer solutions combining and blurring the lines between previously discrete test instruments while delivering speeds and analysis capabilities several orders of magnitude greater than any other measurement equipment available. Combining both the advantages of the 'old' analog and the 'new' digital world we keep your testing up-to-date and beyond - pushing it to the next level and ready prepared for the future coming.                                                                                                                                                                                                             
Today GAUSS offers a wide range of solutions from DC to 40 GHz for all kind of test requirements in the world of emission testing - full compliance solutions as well as pre-certification solution or even customized solution perfectly fitting to your specific requirements pushing your testing capabilities ahead. We provide customized signal processing solutions based on our well-proven hardware and DSP platforms, as well as unique software solutions. With a strong knowledge in real-time and digital technology, millimeterwave and microwave technology we develop systems that are absolutely outstanding in the field of test and measurement. E. g. the fastest real-time FFT based measuring instruments on the planet with a full compliance real-time analysis bandwidth of 645 MHz as well as classical superheterodyne technology to name a few only of our outstanding and outperforming features for full compliance testing and signal analysis. It is our true passion to develop and to produce highest quality and highest performance instruments made in Germany. With leading-edge technology we're fulfilling all the today's requirements of complex measurement tasks and beyond. Our dedicated goal and ultimate passion is to provide our customers with all the additional benefits and full competitive advantages of accelerated testing, the optimum measurement procedures, unrivaled measurement speed and accuracy - all together at the same time. Empowered by our leading test solutions and patented TDEMI® Technology, we're boosting the capabilities of today's product development and significantly speeding up the time to market of your products. Thus, your product certification as well as pre-certification challenges become just a walk-over now!
Feel the expierence and make your life easy!
Driven by our ultimate mission: Smarter testing for a smarter world.